SMT intelligent initial sample detection system JOYSMT-500
The introduction of design concept:
SMT electronics enterprise need to deal with such a situation, multi-model, small batch, frequent change production line more and more, which makes initial sample detection detection tasks become more and more heavily.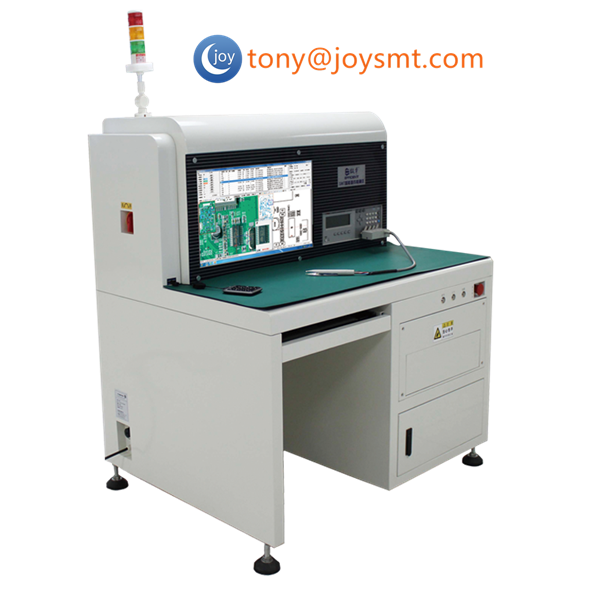 The traditional SMT initial sample detection method ,not only waste many manual work, inefficient, and the lack of control of the entire testing process and usually quality is not guaranteed. in order to solve this problem, SMT intelligent initial sample detection system have been developed during Joy Technology Co.,Limited.
SMT intelligent detection system JOYSMT-500 through intelligent integration of CAD coordinates, BOM list and the first PCB scan, the system automatically enter the measurement data, does not allow manual input data, put an end to human error, to achieve the first SMT product line inspection, Check efficiency increased by 80%.
Second, the work mode:Scan the need to detect the first piece of SMT patch PCB, smart box to obtain PCB physical scan pictures, import BOM list and PCB component patch coordinates. Software on the PCB picture, BOM, coordinates for intelligent synthesis and intelligent global coordinate calibration, making the component coordinates, BOM and picture physical components corresponding one by one. By navigating the measurement target, the LCR read data automatically corresponds to the corresponding position and automatically determines the detection result. Eliminate false positives and leak detection, and automatically generate test reports stored in the database.
After the software has been upgraded and improved, the system can also be applied to the patch missing pieces of feed and realize the function of the coordinate device in advance for the need to patch the PCB to obtain the location of the patch component coordinates.
Our product advantages and feature:
1)Save half manpower: the traditional SMT first piece of detection, usually need two operators, use, a person can easily competent.
2) save half of the inspection time: hundreds of customer verification, the use of JOYSMT-500 first detector, single operation, you can save 50% -80% of the first detection time, and effectively reduce the production line waiting time.
3)Effectively improve the quality: the use of JOYSMT-500 first detector, the entire detection link can control, put an end to the error, not missed, miscarriage of justice, the data can be traced at any time.
4)Automatically generate a report: detection is complete, can automatically generate test reports. Report a real response to the testing process and can be archived or sent to the customer.
5) The operation method is very simple: the system interface is friendly, automatic reading, automatic judgment, a tone, the operator can learn that day, 3 days to skilled operation.
6) Traceability: automatically generate the first test report, and restore the detection scene.
7)In order to protect customer investment: products from time to time to upgrade, enhance the new products and functions to protect customer investment.