Product description
YAMAHA FEEDER CALIBRATION JIG
1, Simple structure, easy operation, function optimization. And the use of high-precision 0 gap guide, to ensure positional stability, greatly improve work efficiency
2, Accurate detection. Reclaimer position, height, strut height can be done accurately measured. To better grasp the quality status;
3, The use of 10 'color LED display , LED lighting ring, 50 times magnification CCD camera, making more compact structure, beautiful. Effectively reducing eye fatigue, improve the quality of work;
4, Easy to operate, and can simulate the placement machine, automatic continuous observation reclaimer position, a clearer grasp FEEDER continuous operation quality, and thus more effective control of polishing material ratio;
5, You can choose a variety of models such as FUJI CP6, YAMAHA, SANYO; PANASONIC, UNIVERSAL, SONY; JUKI; SAMSUNG;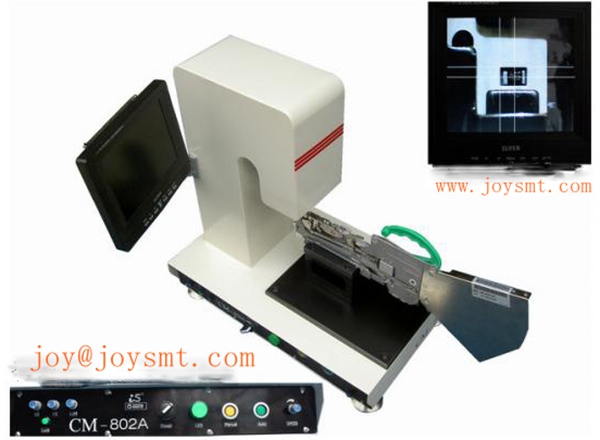 6, The functions and features:
1. Precise XY axis adjustment;
2. axis camera can be directly adjusted;
3. 220V/24V DC power supply;
4. black and white cross reference cursor;
5. Automatically step function;
6. bright LED display;
7. precise control fixtures feeders;
8. precise 8mm,12mm,16mm and 24 mm feeders control band.
Uses for : FEEDER calibration jig for calibration of various models
Power supply: 220V/24V
Compressed air requirements: 5kg/cm²
Dimensions: L500mm * W 350mm * H550mm
Weight: about 35kg